Welcome To Crazy Ladies
About Crazy Ladies
We are a brand new ladies board looking for some great new members. If you are looking for a drama free place where you can be you, then please register with us. If you are looking for friends, support or alot of fun, then you will will it here. But you will need to register with us to join the fun! We hope to see you inside.
~The Crazy Ladies Team~
Vote For Our Site
Here are the voting sites that we are on. So please vote for us daily. Alot of the sites you can vote for us every 30 minutes. But there are a few that you can only vote once a day. Remember: More votes, more members join.
Top 100 Parenting Sites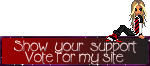 Register With Us!